Yesterday morning was another good morning. No shaking which is great. We are trying to get him back into a routine which means a quick morning outing for some bladder relief and then a walk right before I leave for work. No walks right now because he's a little tired but thats ok. So for now, he just tools around the front yard to do his business. He insists on going to the backyard, no matter what time of day, a lot lately. Which again, tells me he is completely comfortable outside but not yet inside. Maybe some more rugs will help that. He's a little spooked by even a 3 inch gap between runners and will leap to get to the next rug. I have an old rug that we plan on cutting up this week for more runners so hopefully that will help.
His appointment was at 5:40 for staple removal. It takes about 15 minutes to get there depending on traffic. We loaded his dog bed in the back of the van and got ready to take him over around 5. We figured it would take some convincing to get him into the van and we thought it would take awhile to get in to their large facility. Much to our surprise, with a lot of help, he leaped right into the car!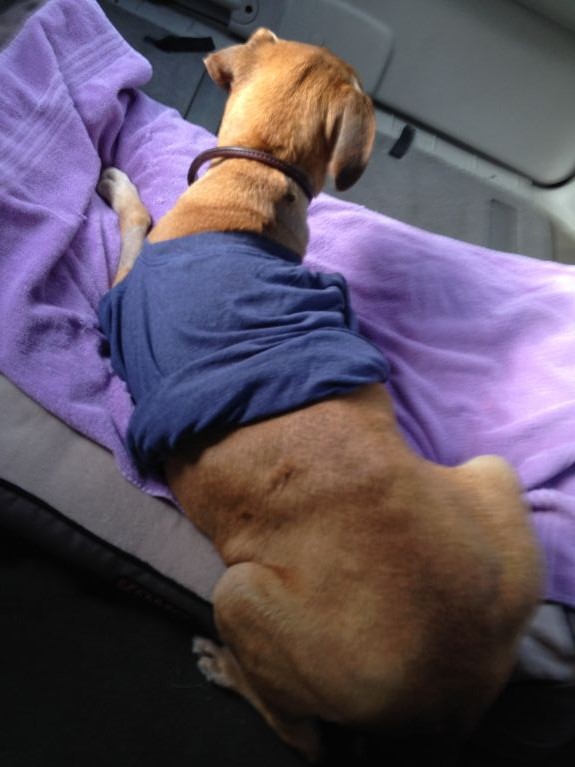 Once we got there we unloaded him and headed down the long corridor to their elevators for the second floor and headed in to the waiting room. He walked all the way and even waited for his appointment standing up, with no rests, like a total BOSS. The Dr thought his incision looked great and he was ready for staple removal! YIPPEE! We talked about continued pain relief and much to Buddy's relief we headed out the door for home. He'll stand and face the door until its time to go. I can imagine what goes through his head. (The last time we were here I came home WITH OUT my arm. Where is it? I know its here somewhere.)  Anyhow, we headed to the elevators. It took us a while to convince him that the elevator was NOT another waiting room and that we REALLY were going home.  We headed down to the first floor a little worried about the long walk down the hallway after the elevator ride. Its about 70 feet or so and he still hadn't had any breaks from walking and standing. We got off the elevator and he ran. HE RAN. HE RAN ALL THE WAY DOWN THE HALLWAY TO THE DOORS LEADING OUTSIDE. HE RAN! OMG! HE RAN! Remember the movie Braveheart? Buddy was Mel Gibson. (with out the face paint, sword and Scottish accent). FREEEEEEDOM!! Incredible. I am still sitting here laughing and shaking my head!
This morning was filled with some more newness. I found him resting in one his old spots under the table. And, I actually got him to walk a little bit down the street for a very short walk before I left for work. He had to stop and rest before we headed in the house but he did it! All on his own. Its been 16 days since his surgery. We are so proud of him. He is incredible. Look at that face!