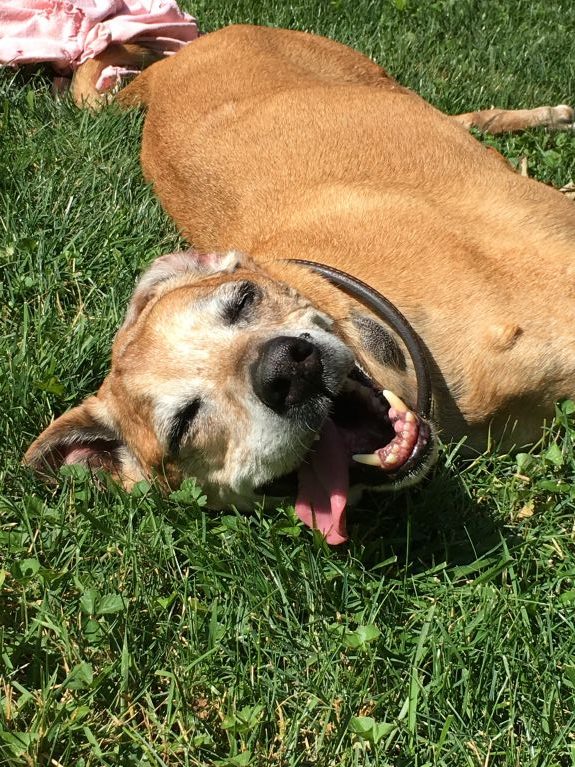 Is this not the best face ever?! Summertime is the best time!
Just a quick check in to say hello and to give a warning about salmon oil! We started noticing that Buddy's walk's were becoming shorter. Old age and arthritis is starting to take it's toll. He's already on a supplement that helps it but I also read that salmon oil can also aide with the discomfort of arthritis. I found a great product sold on Amazon and tried it out. He loved it but unfortunately, it did not love him. We're talking diareah for 4 day's straight in the house and out of the house. ( I am very thankful for a carpet cleaner we had bought a few months ago. Oh Lord, I don't know what I would have done with out it!)We called the vet and they recommended a teaspoon of canned pumpkin. Who would have thought that canned pumpkin helps diareah! Go figure?! Unfortunatly the canned pumpkin was not enough to help him. I came home from work one afternoon to find him shaking and the floor covered in slimey blood. It was a horrifying sight. Off to the vet we went where he recieved fluids, a prescription for probiotics and anitbiotics. They recommended keeping up with the canned pumpkin as well. He had emptyied eveything out of his small intestines and was now dumping everything out of his large intestine which included slimey blood. Tyankfully he  was on the mend in 24 hours. Poor guy. I left a polite note on Amazon warning people to be very careful of salmon oil and the adevertiser that sold it to us refunded all our money back and gave us a coupon for $5 towards any of their products. I though that was pretty nice. Salmon oil might be good for some dog's but it certainly was not ok for our's. User beware! The funny thing is that ever since this bad episode, his walks have gotten better again! We are chalking it up to the warmer weather and the kids being back from college.
Here's to warmer weather and sun filled days!
Cheer's Tripaw family!